Presentation of the book "Carol: bellesa subversiva del desig", at La Llibreria 22
17 Dec
Today, Tuesday, December 17, at 7 p.m., the presentation of the book "Carol: bellesa subversiva del desig". A variety of approaches to the movie "Carol" by Todd Haynes.
Speakers: Xavier Antich, Maria Josep Balsach, Anna Bayó, Imma Merino and Joaquim Rabaseda (authors of the book together with Marga Carnicé, Quim Casas, Eulàlia Iglesias, Violeta Kovacsics, Ariadna Lorenzo, José Luis Losa, Carlos Losilla, Josep Maria
Miró, Endika Rey and Francina Ribes).
And "Carol" friends: Maria Lluïsa Faxedas, Josep Maria Fonalleras, Salvador García-Arbos, Carme Martínez and Àngel Quintana.
Each will comment on a snippet of the movie.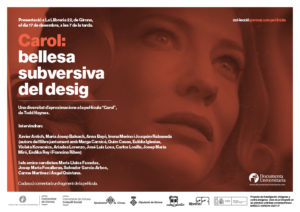 COMPARTIR